Woodruff Electric Holiday Greeting Card Contest
Woodruff Electric is looking for elementary students (K through Fifth grade) to submit a holiday card design.
The winning design will be used for the Official 2019 Woodruff Electric Holiday card! These cards are mailed to friends of Woodruff Electric, Legislators, and businesses across the country!
In addition to having his/her artwork featured on this year's Woodruff Electric holiday card, the winning artist will receive a certificate commemorating their achievement, as well as a $50 gift card.
The winning design will also be featured on our website and in Arkansas Living magazine.
Get your entry form at our website (woodruffelectric.com) or pick up one at any of our
office locations. Hurry! The deadline to enter is October 31, 2019.
Woodruff Electric Cooperative Holiday Card Design Contest Rules:
1. All students from K through 5th grade is eligible to participate.
2. Students must attend a private, public or homeschool in the counties of Woodruff, Cross, Monroe, St. Francis, Lee or Phillips or in the town of Des Arc.
3. Any medium or combination of medium may be used including drawing, crayons, watercolor, oil, acrylic paint, pastel, chalk, etc. Do not use glitter please!
4. Submissions should be on an 8 1/2" x 11" in size in a horizontal (landscape) format.
5. One entry per student. A signed entry form is required.
6. Artwork must be an original creation. Submissions can be in color or in black and white.
7. Greetings may also be included with cover designs, but WECC maintains the right to select the final greeting.
8. Each entry must clearly indicate the student's name, age, grade, teacher and school on the reverse side of the artwork.
9. The winning student's name will appear on the card.
10. Deadline for entries is October 31, 2019.
Send entry forms and artwork to:
Woodruff Electric Cooperative
Attn: Holiday Greeting Card
P.O. 1619 Forrest City, AR 72336-1619
The 2019 Annual Meeting of Woodruff Electric was held on July 23rd. Re-elected to the cooperative's board was J.A. Wampler representing District 1. Other members of the board are: W. Wayne Beadles, J.N. Bickerstaff, Chris Burrow, Jack Caperton III, J. Byron Ponder, Jerry Brown, Joe W. Whittenton, III and A. B. Thompson, Jr. Michael Swan is the cooperative's chief executive officer.
The cooperative's business session was led by the Cooperative Attorney, J. Harmon Smith, who delivered the results of the director's election. Following the election results, Woodruff Electric's CEO, Michael Swan, delivered his annual report to the membership.
The CEO's report to the membership began with a review of the financial condition of the Cooperative. This information was included in the annual report pamphlet that all cooperative members received with their ballot in July. Swan noted the record patronage retirement of more than 2 million dollars in 2019 and emphasized the cooperative priorities of safety, reliability and
affordability. He reflected on operation improvements with the newly launched Hunter North Substation located in Hillemann, the implementation of radio-frequency meters and the 1-megawatt solar facility that was completed in April.
Woodruff Electric conducted a Member Satisfaction Survey earlier this year. The results of the survey were reported during the meeting with high remarks to the cooperative employees for their hard work and dedication to serving the cooperative's membership. The winners selected for the 2019 NRECA Youth Tour to Washington, D.C. and the five recipients of the Glynn and Mildred Carpenter Scholarship were recognized as the "future and the voices of our tomorrow."
Lastly, cooperative employees were recognized for putting Cooperative Principle #7 "Concern for Community" into action throughout the year. Employees are constantly serving communities by volunteer support, hosting fundraisers and participating in community events throughout the seven county service area.
Woodruff Electric is a member-owned electric utility. The cooperative is headquartered in Forrest City and serves more than 19,000 homes, farms, businesses and industries in parts of Cross, Lee, Monroe, Phillips, Prairie, St. Francis and Woodruff counties. The district offices are located in Augusta, Moro and Barton.
2019 Annual Meeting Prize Winners
Mark Waldrip of Moro received his new electric smoker for the grand prize from Whitney Sharp, Woodruff Electric Cashier.
Chris Woods of Colt and his grandchildren, Beckett and Turner, accepts the energy efficiency gift basket from Wesley Davis, right, Woodruff Electric Accountant.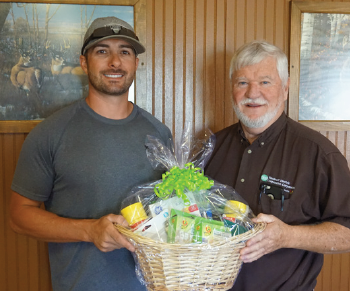 Micah Ayers of McCrory accepts his energy efficiency gift basket from Teddy Little, Augusta District Manager.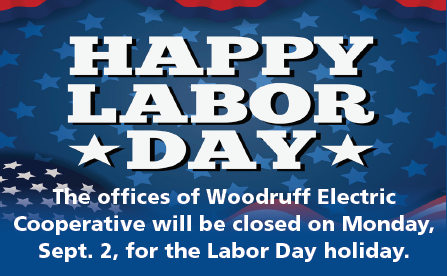 David Miller of Sardis, Mississippi received his new electric smoker for the grand prize from Beth Vaccaro, Woodruff Electric Consumer Accounts Clerk.
Ossie Thomas of Haynes accepts his energy efficiency gift basket from Lisa Long, Woodruff Electric Administrative Assistant.
Margie Lewis of Holly Grove accepts her energy efficiency gift basket from Kevin Scott, Woodruff Electric Distribution Engineer.
Corine Harmon of Colt accepts her new electric smoker for the grand prize from Brent Maxwell, Woodruff Electric Serviceman.